Effects of disease modifying therapies on brain and grey matter atrophy in relapsing remitting multiple sclerosis
Multiple Sclerosis and Demyelinating Disorders
2018
3:1
Received: 10 August 2017
Accepted: 14 December 2017
Published: 29 January 2018
Abstract
Background
Progressive brain atrophy is a major feature of multiple sclerosis (MS) pathology and is actually considered a major determinant of the progressive accumulation of physical and cognitive disability in MS patients. Although brain atrophy may have different pathological substrates, several lines of evidence suggest that in disease modifying drug (DMD)-treated MS patients, the higher is the anti-inflammatory effect of the DMD the lower is the progression of brain volume loss, grey matter atrophy and the accumulation of disability.
Areas covered
Magnetic resonance imaging (MRI)-based measurements of inflammation (focal white matter and grey matter lesions) and neurodegeneration (decrease in brain volume, cortical and deep grey matter atrophy) are currently included among the primary or secondary end-points of Phase II and III randomized clinical trials (RCT). This review summarizes literature data on the effects of DMDs on either whole brain or grey matter atrophy emerged from RCT and from post-marketing studies.
Commentary
Taken all together, literature data show that DMDs are capable to reduce significantly brain inflammation and, although with different degrees of effectiveness, to slow down global brain and/or grey matter atrophy progression. Moreover, the comparison between early and delayed treatments clearly points out that the most relevant effects on brain and grey matter atrophy are observed when DMDs are initiated in the very early disease phases.
Keywords
Multiple sclerosisBrain atrophyGrey matter atrophyDisease-modifying drugsMagnetic resonance imaging
Background
The average rate of brain volume loss per year is significantly higher in multiple sclerosis (MS) patients (range 0.5–1.3%, median 0.7–0.8%) than in healthy gender- and age-matched controls (range 0.1–0.3%, median 0.2%) [1–4] and it's currently accepted that brain volume decline in MS mainly reflects grey matter (GM) atrophy rather than white matter (WM) loss. Indeed, while WM volume shows a mild reduction during the course of disease, GM volume significantly and progressively decreases [5–13]. Recently, a parenchymal loss of ≥0.4% per year was proposed as "pathological atrophy rate" in MS patients [14].
GM atrophy, especially cortical atrophy, can be early demonstrated in patients with clinically isolated syndrome suggestive of MS (CIS) and rapidly progresses during the relapsing remitting (RRMS) disease course, becoming particularly evident in the frontal, temporal, and parietal lobes [5, 7, 10, 11, 15–19] although in different degrees and with significant regional variation among patients [19–24]. Moreover, deep GM nuclei are site of relevant atrophy as well, i.e., compared to matched healthy subjects, up to 25% loss of the thalamus volume has been demonstrated in RRMS [24–28].
GM atrophy becomes more widespread and severe in secondary (SPMS) and primary progressive MS (PPMS) [29–37] and, in some patients, may undertake a dramatic acceleration, i.e., up to 14-fold compared to age-matched healthy individual [16, 36]. Although PPMS and SPMS show similar extent of total GM atrophy, different regional atrophy distribution was described in these two types of MS [34–37] and some correlations between regional WM lesion load and GM atrophy were more often observed in SPMS compared to PPMS, a finding somehow expected given the differences in the WM lesion load that characterize these two MS types. On the other hand, a very weak relationship between WM pathology and GM atrophy is generally found in patients with progressive forms of MS [38], a finding that may be explained with the different rates of evolution of inflammation and neurodegeneration in the more advanced phases of the disease.
All the data above summarized strongly indicate that brain atrophy and cortical and deep GM volume measurements may be useful magnetic resonance imaging (MRI) parameters in predicting MS disease course and progression.
MRI imaging of brain atrophy
MRI measures of global brain atrophy lack pathological specificity, since they may reflect several changes of WM and GM components that are associated to inflammation and neurodegeneration, such as demyelination, axonal damage, neuronal death, astrocyte and microglia proliferation, as well as physiological fluctuations of the water content. Moreover, the anti-inflammatory DMDs currently used for the treatment of MS differentially act on WM inflammation, thus determining an acceleration of brain volume loss, a phenomenon commonly referred to as "pseudo-atrophy" and assumed to reflect the resolution of inflammation and oedema. This phenomenon may complicate the interpretation of DMD effects, especially in the first two years of therapy.
Measurements of percentage brain volume change (PBVC) and brain parenchymal fraction (BPF) over time are among the best-studied and more used methods for quantifying neurodegeneration in MS. Indeed, the majority of the clinical trials have incorporated BPF or PBVC as a secondary outcome measure of disease progression. PBVC can be obtained by means of the Structural Image Evaluation Using Normalization of Atrophy (SIENA) [39] and its cross-sectional version SIENAX [40], both included in FSL suite [41, 42], i.e., the most used methods to extract brain and skull images from the single whole-head input data. These softwares allow tissue-type segmentation, with partial volume estimation, to calculate the total volume of brain tissue and separate estimates of total GM, deep and cortical GM, and WM volumes [43]. BPF is measured as the ratio between the volume of WM + GM and the total intracranial volume WM + GM + ventricular CSF. A meta-analysis of 13 clinical trials - including more than 13.500 RRMS patients and in which brain atrophy was measured as PBVC [44] or BPF [45] - showed that treatment effects on disability progression over two years correlated with the effects observed on both brain atrophy (p = 0.001) and T2 lesion volume (p < 0.001) [46].
Other automated methods are currently available for WM and GM segmentation, that allow the assessment of the total cerebral GM volume, the volumes of deep and cortical GM, as well as the estimation of regional cortical GM volumes [40, 47, 48]. The results of these automated methods are quite reproducible [40, 49]. BPF can be also obtained from Freesurfer and ANTs pipelines or any software providing brain four-tissue segmentation as FSL [43] or SPM [50]. Cortical thickness (CTh) can be calculated with different software tools as Freesurfer, which includes a surface-based method [51], or the more recent ANTs with its registration-based DiRECT algorithm [52, 53].
GM atrophy and disability
A strong association between physical disability (as measured by means of Expanded Disability Status Scale (EDSS) or timed 25-ft walk (T25FW)) and total, regional and cortical GM volume has been described with consistent agreement among studies. These associations become more remarkable with disease progression from CIS to SPMS. [54–63]. Particularly worth of interest are studies that have demonstrated an association between cerebellar GM loss and the degree of disability in the cerebellar functional system of EDSS [60, 64]. Furthermore, physical disability correlates with both cortical thinning of the frontal, temporal and parietal lobes [29, 30, 65, 66] and with thalamic atrophy [26–28]. In addition, global GM [61, 62, 65–67] and thalamic atrophy [28, 55] have been found to predict EDSS score up to 15–20 years after diagnosis.
Several studies have pointed out a correlation between GM loss in the spinal cord and physical disability and disease duration [68–78]. Indeed, spinal cord atrophy was described in the early MS stages [69, 70, 74] but was much more pronounced in PPMS and SPMS [76, 77], whereas spinal GM volume inversely correlated with physical disability (measured with EDSS, T25FW, and 9-Hole Peg Test scores) in patients with CIS suggestive of MS, and was more predictive for EDSS or Multiple Sclerosis Functional Composite (MSFC) scores that others MRI parameters [68–70, 75–78].
Correlations between cognitive impairment and regional, cortical and total GM volume have also been demonstrated with significant agreement among studies [79–87]. Moreover, associations between specific cognitive domains and various quantitative GM measures (such as thalamic volume, cortical thickness and total GM volume) were found to be strong independent predictors of cognitive decline [23, 26, 34, 84, 87, 88].
In summary, brain atrophy and GM (cortical and deep) loss constitute a clinically relevant aspect of MS pathology since the very early disease phases, and, given their association with physical and cognitive disability, should be definitely considered not only a surrogate marker of treatment efficacy, but rather a primary target of DMDs, especially when the treatment is aimed at reducing disability progression.
Effects of disease-modifying drugs on brain and GM atrophy
Conclusions
This review highlights that 1) compared to no treatment, all DMDs reduce the rate of brain volume loss and/or GM atrophy in RRMS, 2) the early treatment generally shows a more relevant impact on brain atrophy measures compared to late treatment, 3) second line therapies generally have a more significant and long lasting impact on MRI metrics of either brain or GM atrophy. Figure
1
reports the brain volume changes observed with some currently used DMDs and clearly shows that DMDs lessen the progression of brain atrophy observed in MS patients to values similar to those observed in normal individuals. Of course, a direct comparison between drugs is hampered by substantial differences among the experimental design of the trials (including patient selection, clinical and MRI parameters).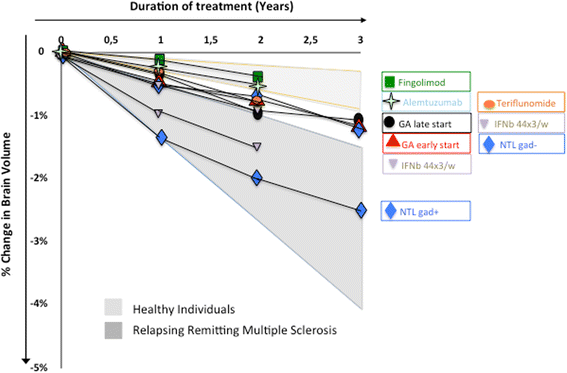 This review further confirms that the current attitude of treating RRMS with DMD in very early disease phases, possibly since clinical onset, is correct and has a strong rationale also in preventing or slowing down neurodegeneration and disability progression. Moreover, in as much as global brain volume loss and grey matter damage remain MRI parameters not routinely evaluated, the discontinuation of therapy in patients judged to be "clinically" stable for prolonged period of time on the base of the relapse rate and/or rough MRI parameters of WM damage should be considered with caution.
Increasing evidence suggests that MRI metrics of brain atrophy should be definitely considered not only surrogate markers of treatment efficacy, but rather a primary target of DMDs, especially when the treatment is aimed at reducing disability progression. However, further studies aimed at investigating the mechanisms of grey matter damage and how DMDs may positively modify this critical aspect of MS pathology are needed.
Declarations
Acknowledgements
None.
Availability of data and materials
NA
Authors' contributions
All Authors have contributed to manuscript preparation. All authors read and approved the final manuscript.
Ethics approval and consent to participate
NA
Consent for publication
NA
Competing interests
During the past 3 years, Professor P. Gallo has had a financial relationship (lecturer, member of advisory boards and/or consultant or investigator) with Biogen Italy, TEVA, Merck-Serono, Novartis Farma, Sanofi-Genzyme, Roche and Almirall. Dr. A. Favaretto has received funding for travel and speaker honoraria in the last 3 years from Teva, Novartis, Biogen Italy, and Genzyme. A. Lazzarotto, M. Margoni, and D. Poggiali have nothing to disclose.
Publisher's Note
Springer Nature remains neutral with regard to jurisdictional claims in published maps and institutional affiliations.
Open AccessThis article is distributed under the terms of the Creative Commons Attribution 4.0 International License (http://creativecommons.org/licenses/by/4.0/), which permits unrestricted use, distribution, and reproduction in any medium, provided you give appropriate credit to the original author(s) and the source, provide a link to the Creative Commons license, and indicate if changes were made. The Creative Commons Public Domain Dedication waiver (http://creativecommons.org/publicdomain/zero/1.0/) applies to the data made available in this article, unless otherwise stated.
Authors' Affiliations
(1)
The Multiple Sclerosis Centre, Department of Neurosciences, DNS, University Hospital of Padua, Padova, Italy